ALPARC cooperates with ProClim (CH) inside the Swiss Academy of Natural Sciences to develop a database of the different studies and research projects led by the protected areas in European mountains.
An inventory of the prioritary research themes was realised through a survey among these protected areas.
These data are available on ProClim & Partners server for each interested protected area manager or researcher.
PROJECTS

PERSONS

PROTECTED AREAS
Enter a new research project in the database: Questionnaire
PROCLIM : InfoSystem on Climate and Global Change
---
Resources linked to the article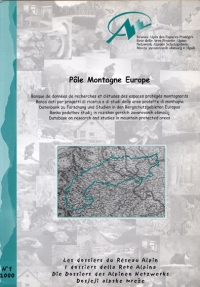 A database bringing together all the different studies and research carried out by mountain protected areas in Europe; the result of collaboration between the Alpine Network, the Swiss Academy of Sciences and ProClim (Switzerland).
Year 2000
Language FR, DE, IT, SL, EN
Number of pages 133