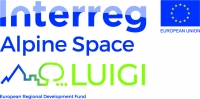 LUIGI
LUIGI: Linking Urban and Inner-Alpine Green Infrastructure - Multifunctional Ecosystem Services for more liveable territories.
This project started thanks to the cooperation of 14 diverse partners – universities, research centres, regional and local public authorities, development agencies and NGOs – with the common goal of preserving, valorising and promoting Green Infrastructures (GIs) and related Ecosystem Services (ESS) as a way to ensure a durable ecological, economic and cultural connectivity between rural and urban territories of the Alpine Space.
LUIGI falls under ALPARC's Biodiversity and Ecological Connectivity field of work. The association's role will be ensuring the continuity with previous projects and establishing a link with key actors on the topic from its professional network in order to guarantee a maximum capitalisation of project results. A series of tools, such as an Open Online Course, will ensure a large dissemination of project findings among interested professionals.
The main challenges for the project
LUIGI acknowledges and builds on the following territorial trends: the increasing wealth of urban and metropolitan areas and their high quality of life, the fact that rural areas are suppliers of goods and services that mainly benefit urban inhabitants, and the increasing concern about biodiversity loss in urban and rural areas. In this perspective, new approaches are needed that rely on multifunctional Alpine Green Infrastructure networks: i.e. not only ecological corridors, but links supporting an exchange of economic, social and cultural values between urban and mountain/rural areas for a common and sustainable development.
Project main objectives and work packages
LUIGI preserves, valorises and enhances urban-rural Green Infrastructures in the Alpine Space by involving stakeholders at all levels, particularly across metropolitan regions. In work package 1, the project will deliver an assessment on the state of GIs and ESS in the region based on maps and scenarios, guidelines for conserving and enhancing multiple Environmental Services provision from Green Infrastructures.
Work package 2 will focus on setting the basis for ESS markets by assessing their potential in pilot-regions and identifying suitable and transferable business models enhancing regional GIs. Regional tests will be conducted to build a "stock-exchange model" where demand and supply of ESS can meet.
Moreover, case studies in pilot regions will be conducted within work package 3. This will result in the creation of guidelines and exchanges of knowledge and best practices.
Finally, work package 4 will capitalise on the project's results focusing on improving existing trainings and educational modules on the sustainable management of Green Infrastructure and the enhancement of Environmental Services.
LUIGI lasts from October 2019 to June 2022 and is co-financed by the European Regional Development Fund through the Interreg Alpine Space programme (Total budget: 2.337.301,73€ - ERDF grant: 1.986.706,45€).
For further info: https://www.alpine-space.eu/projects/luigi/en/home
Contact person: Yann Kohler yann.kohler@alparc.org